Because Guardio is a browser extension, instead of finding it on your computer as a standalone program, you'll find it within your browser's extensions. If you use Chrome, you can reach this page at chrome://extensions/, or if you use Edge, at edge://extensions.
For easy access to your Guardio dashboard, we recommend pinning the Guardio extension to your taskbar in your browser.
Pin Guardio Extension on Chrome
Select Extensions in the top right corner of Chrome.
Find Guardio in your Extensions list.
Select Pin.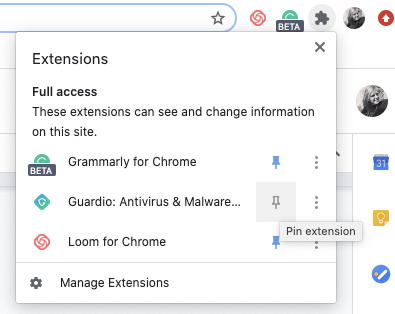 Pin Guardio Extension on Edge
Select Extensions in the top right corner of Edge.
Find Guardio in your Extensions list.
Select Show in Toolbar