Welcome to Guardio 😇
We're thrilled to have you with us. Once you've signed up, Guardio will automatically create your personal dashboard.
Meet your new best friend: Your Guardio Dashboard 🤓
Home Page:
On your home page, you'll see the basic details of your device and recent activity.
Your Recent Activity shows the most recent way Guardio protected you. It includes which threats Guardio blocked and when the action occurred. For a full list, visit the My Device page.
If you see a site that you do not want Guardio to block, click here for instructions on how to add a site to your whitelist.
To the right, you'll find your membership status and how many days remain on your current billing cycle. The most important thing here is your protection status (see the image below).
If your popup protection doesn't display a green dot, select "Fix" to grant Guardio browser permissions to block those pesky popups. If it's green, this means that you're already protected.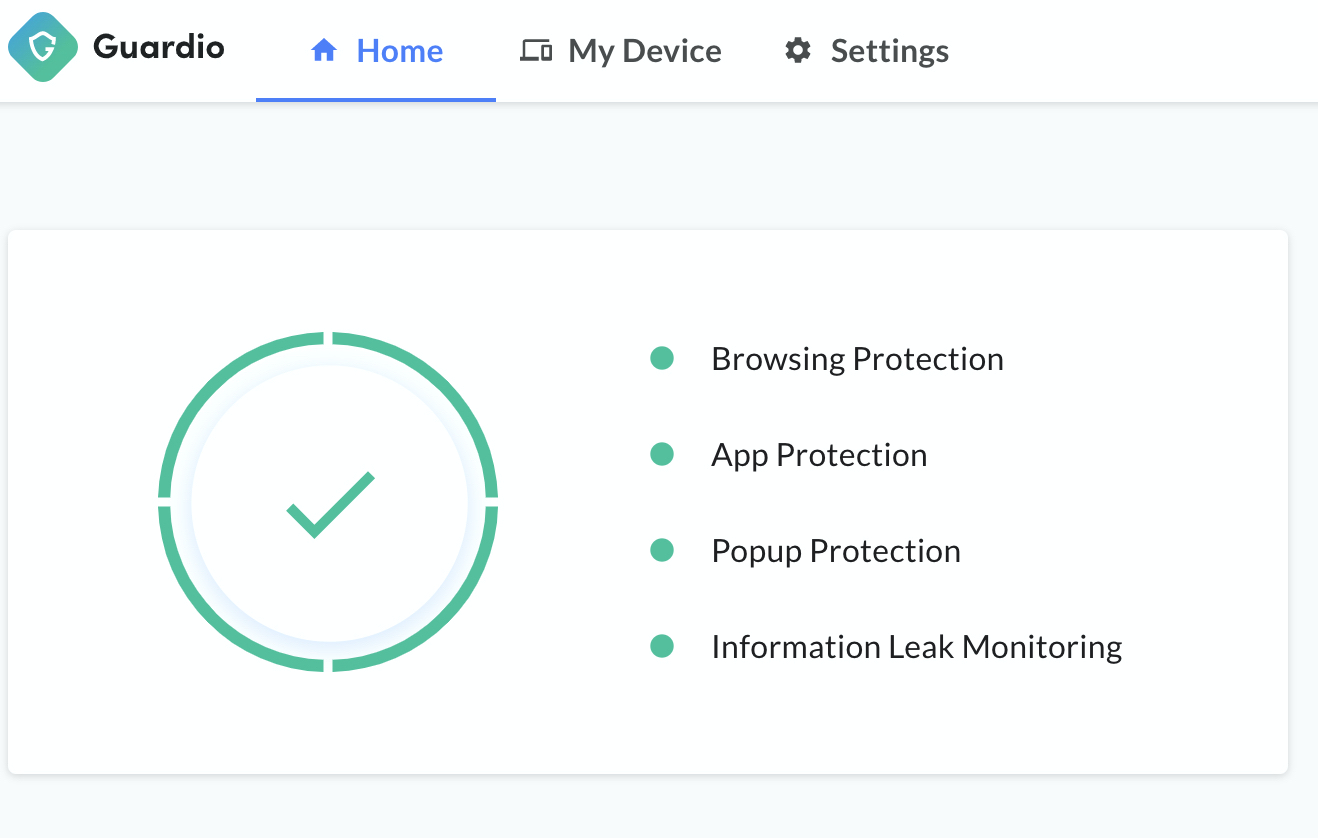 Let's move on!
My Device Page:
Things are getting serious here 🤓
On this page, you'll find information about the devices you have added to your Guardio protection plan. It includes information like your operating system (Mac, Windows, Chrome, Linux), your location, etc.
Next, you'll see a list of your 'Installed Apps'. This shows each of the apps/extensions that you currently have on your device. One of those extensions, for example, is Guardio.
Next, you can see the threats that Guardio blocked for you, along with any data breaches that involved your information. If you see that there was a breach, don't panic. 😒 But we do recommend you change your password for any breached accounts and any accounts where you used the same or a similar password.
With your Guardio protection active, we scan each site you visit in real time so you'll never have to worry about accessing a malicious website. You don't need to do anything when we block a bad site, but you can always see which sites we blocked here. If you see a site that you do not want Guardio to block, click here for instructions on how to add a site to your whitelist.
Are you ready for the final page?
Settings Page:
Prepare yourself for a world of options. Let's go over the options we have here:
*Email Monitoring - we'll monitor up to 5 email addresses for data leaks. Click here for instructions on how to add additional email addresses.

*Website Whitelist/Popups Whitelist - this shows websites and popups that Guardio identified as malicious or abusive, but you've requested that we allow anyways.

*Profile - if your name isn't accurate, you can correct it here.
*Membership - Here you can do quite a few things. You can:
*Cancel your subscription (but talk to us first)
* Change Billing Cycle from monthly to yearly or yearly to monthly
*Invite family members so they will be protected as well.
That's it! You are good to go! Your browser is protected!
We, of course, are always available at support@guardiosecurity.com if you need anything.