Your dashboard is your hub for all things Guardio. Here, you can learn about Guardio's features and how they protect you and manage your account.
If you're new to Guardio or want to familiarize yourself with your account, you're in the right place. Here, we'll walk through each page of your dashboard and bring you up to speed on everything you need to know.
Overview
When you visit your dashboard, you'll land on the Overview tab. It displays a summary of threats (i.e phishing, identity theft...) Guardio protected you from and information about your device.
On the upper right corner of the page, you can see your protection status. If we have any important messages for you, like trial information, missing permissions, or upcoming expiration dates, they'll appear in a bar at the top of the page. For example, this image displays a message indicating that someone hasn't installed Guardio's browser extension.

Each major feature of Guardio's protection is listed on the left column of the page. Depending on your plan type, you'll see different options and information inside each category.
Browsing
Your Browsing Activity Page includes all features that protect you while you're actively browsing the Internet:
Blocking of Malicious Websites (note: this is a premium feature).
Suspicious Website Alerts
Suspicious Download Alerts
Camera & Microphone Alerts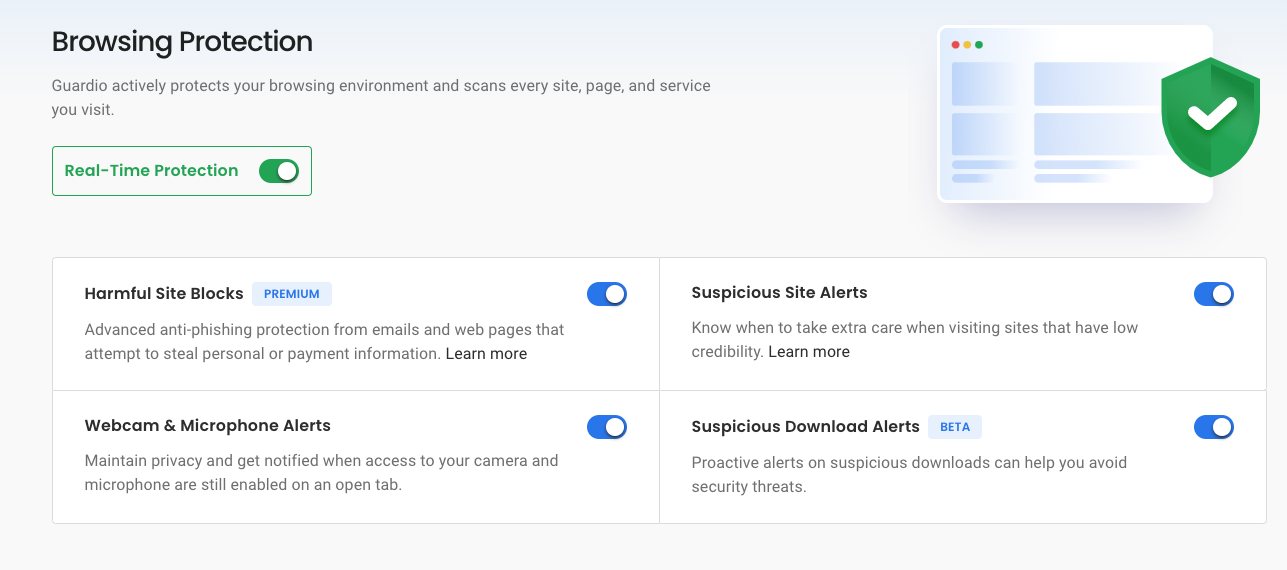 At the bottom of the page, you can see each instance where Guardio took action to protect you. For example, in the image below, you can see a list of websites Guardio blocked. To reveal the full site name, click on the eye located next to "source" at the top of the blocked site list: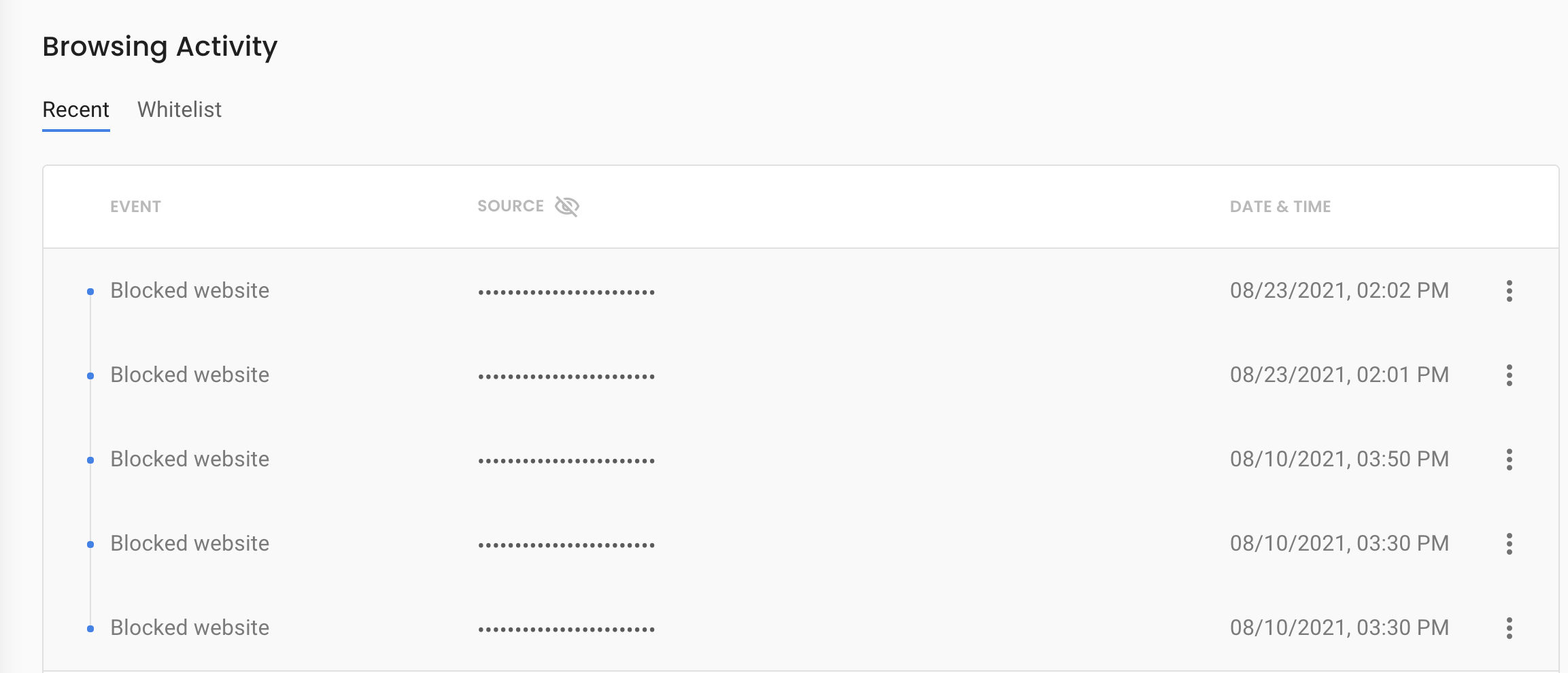 What if Guardio blocks a website I need to access? Any time Guardio blocks a website, you have the option to override that block and visit the site anyway. We don't recommend doing this, as websites that seem harmless can have malicious activity going on behind the scenes that you can't see. To learn more about how blocking works and how you can override a block, click here: Guardio Blocked a Familiar Website
Extensions
Guardio automatically detects and removes malicious extensions that jeopardize your personal information, install adware, or alter your browser settings. Here you can view all features and activities related to extensions on your browser and use the toggle to turn them on or off.
Always make sure that the "Real-Time Protection" toggle is on.
Extension protection includes two features:
Detection & Automatic removal (premium feature)
Pre Install Alerts (proactive alerts on suspicious extensions can help you avoid online threats).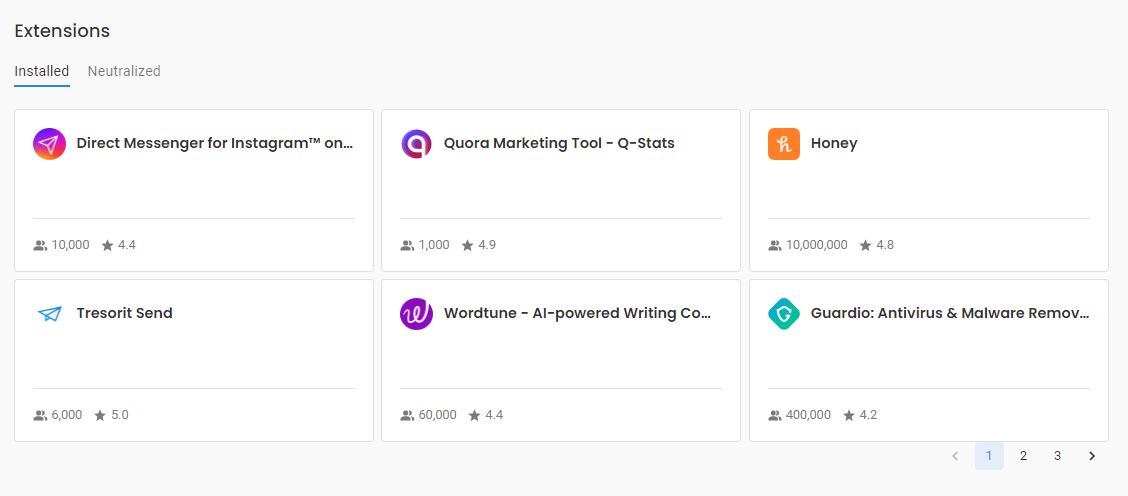 Below the features, you can see all installed extensions as well as those that Guardio neutralized and marked as harmful by Guardio:





You can keep track of extension-related activity below the extensions section: Visiting a suspicious store page and removing malicious extensions.



Neutralized extensions indicate that the extension is not actively running within your browser. The only difference is who or what entity prevented the extension from operating. This protects you from all ill effects of malicious browser extensions as they can no longer access your browser or settings.
Unwanted Notifications Cleanup
Guardio's protection is designed to eliminate malicious popups (push notifications) and also prevent you from accepting them in the future. If you have a free account, you will see the number of push sources sending you push notifications. Premium users immediately benefit from the removal of all unwanted notifications.
In the table at the bottom of the page, premium users will see the sources blocked and have access to manage a whitelist. Click here to learn more about whitelisting notification sources.


Leaks
Here you can view data breaches that contained your information. Data breaches put your privacy at risk. Guardio alerts you so that you can take action quickly and prevent identity theft. If you have a free account, you will have a historical view and can run a scan anytime to search for new leaks. Premium members have real-time monitoring enabled and can monitor up to 5 email accounts. Click here to learn more.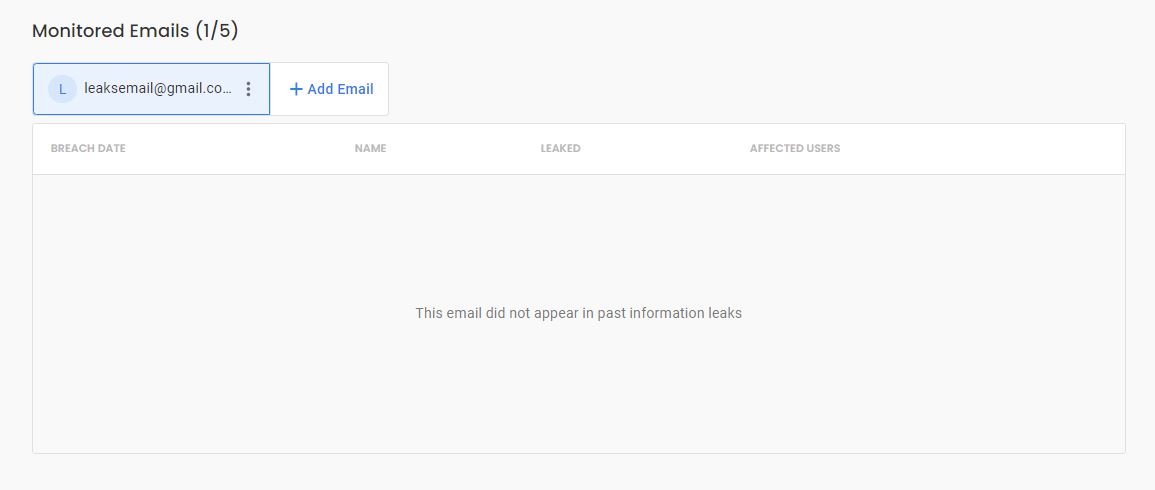 Understand your information:
Breach Date: When the breach occurred.
Name: The website or company responsible for the leaked data.
Leaked: What information was made public.
Affected users: How many other people were affected by the data leak.

Hijackers
From here, you can control and correct your preferred search engine. Guardio will detect search hijacking attempts and direct your browsing to your preferred search engine. Any hijackers detected will appear in the table at the bottom of the page. The correction of the search engine is a premium feature.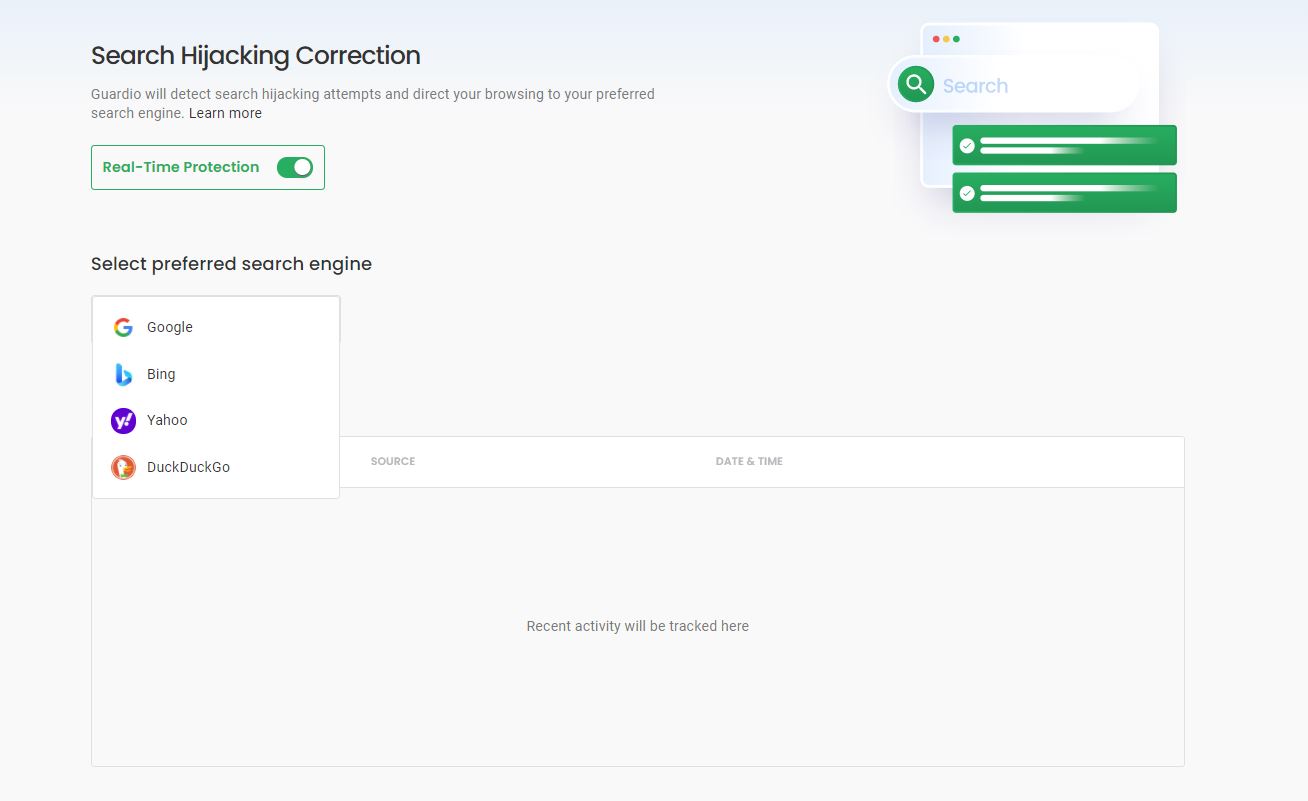 Settings
Clicking on your initials from the top right of the screen will open a settings menu.
Profile
Under your profile, you can make changes to your account.
Personal Information: You can change the name associated with your account. However, you cannot change the email connected to your account. If you need help on this matter, contact our support team.
Password: Reset or change your password, make your changes, and select save.
Email communication: You can subscribe and unsubscribe to different lists by clicking on the toggle.
Log out: If you no longer need Guardio on this browser, you can log out from the device. It won't log you out from other devices.
Membership
If you're the plan manager, you can control all billing-related issues on your membership page.
Billing cycle: Easily switch between monthly and annual plans. For example, if you have a monthly plan, decide to save on the monthly fee and switch to annual.
Team accounts can add and remove seats, and payments will be adjusted accordingly.
Payment Method: View and update your payment method.
Receipts: View historical payments and resend them to your email whenever needed.
Manage Members
Plan managers can add and remove members here.
To add members, type in the email and click "Invite".
To remove an existing member, click on the 3 dots next to the email address and click "remove".
If there is a pending invitation, you can resend or revoke it by clicking on the 3 dots next to the email address.
Support
If you need assistance or have a question, this is the place to come.
Begin by searching for your issue in the help center, most topics are covered, and you will be able to get your answer promptly.
If you have a security issue that is still happening, send a report. It will help us improve Guardio; the more details, the better.
If you prefer human responses, contact our support team, and one of our team members will contact you for further assistance.

And that's a wrap! We hope you've enjoyed the tour and will benefit from having Guardio by your side.