A search redirect, also known as a search hijacker, or browser hijacker, is a form of malware that appears when a third party inserts files into your computer and changes your browser's settings without your permission. These changes help the hijackers make money by forcing you to look at ads, click on paid links, or give up your private information.
Search hijacking commonly occurs through browser extensions, toolbars, and ads online.
If you can't change your home page, remove toolbars, or change your search settings, then your browser has most likely been hijacked.
How to Recognize a Search Hijacker
Depending on what search hijacker has infected your computer, you may notice one or more of the following unintended events occur within your browser.
Your searches lead to unexpected websites.
The new tab page of your browser is replaced with an unfamiliar website.
When you perform searches, you notice multiple redirects.
You're unable to change the default search engine within your browser's settings.
How Guardio Helps with Search Hijackers
All search hijackers fall into one of two categories: extension-based and malware-based.
Extension-Based Hijackers: Guardio disables browser extensions identified as search hijackers. This restores the original search settings.
Malware-Based Hijackers: As a browser extension, Guardio cannot remove the root cause. Instead, it treats the symptoms by intercepting the redirect attempts, blocking the malicious server, and directing to the intended search engine or new tab page.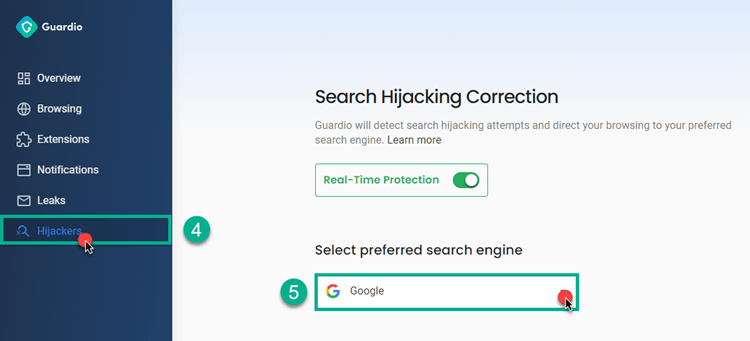 Need More Help?
If you're affected by a search hijacker and continue to see signs of hijacking after activating Guardio's premium protection, contact our support team for additional assistance.